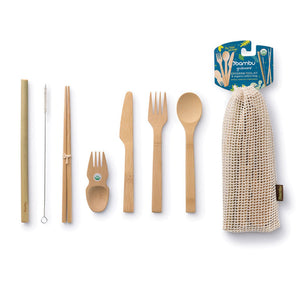 Bamboo Travel Cutlery Set - Eat & Drink (8 pcs)
Regular price
$16.00
Sale price
$19.00
Unit price
per
It's all here, in one eco-friendly portable cutlery set.

The ultimate in reusable bamboo cutlery. We call it the Eat/Drink Tool Kit. 

Lightweight, durable and reusable bamboo flatware, and bamboo eating utensils to throw in your pack, stash in your bag, or store in the car.

The Eat/Drink Tool Kit contains the best quality eco-friendly portable cutlery set you can find.

And the most complete too. Why?

Because we select only the best quality bamboo material. Not all bamboo is the same. The bamboo used to make our brand of cutlery, chopsticks, and bamboo straw is made from USDA certified organic bamboo.

This 8-piece kit includes our popular bamboo flatware set. Sturdy and lightweight bamboo utensils and our high-quality bamboo chopsticks. Plus two bambu® originals - our bamboo Spork and a bamboo straw.

The kit also includes our special plant-based cleaning brush to keep your bamboo straw ready for the next sip, ready for your next trip.

All this is packed in our organic cotton mesh bag for storing and easy organizing. The Eat/Drink Kit is the essential zero waste solution for wherever you eat or drink.
Dimensions:  "  /  cm
Weight:  
Material:  organic certified food safe bamboo wood
Care: recommend hand washing to prolong life
5% of the sale of this product goes towards BC Parks Foundation.
---
Share this Product
---